COVID-19 and the Effects on the Class of 2020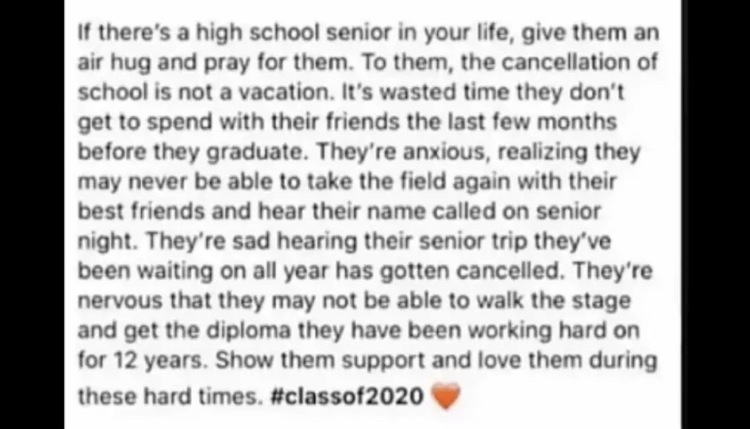 Taylor Parmley '20, Staff Reporter
March 18, 2020
With the National Emergency of the COVID-19 virus in the United States, American life has come to a halt. Flights have been canceled, certain cities are on lock down, business is slowing so stores are shutting down, and schools are on break from March 19 until April 17. Not only are those some of the major differences in day-to-day life, toilet paper, soap, hand sanitizer, and cases of water is sold out in many different stores all over the United States.
Many are afraid to go out because they may catch the disease. However, the COVID-19 virus effects elderly and immunocompromised people more drastically than younger people. Most young people show no symptoms while carrying the virus, and have the minor effects of a cold.
So what are the concerns of a student of the Class of 2020?
Senior students in high schools across the United States are going to be missing out on many events that they have been waiting to experience for twelve years. The Class of 2020 will no longer have a prom. For many students who did not get to participate in prom their junior year will no longer have the opportunity to go to prom. In addition, the Class of 2020 will no longer have a grad-nite to Disneyland or wherever they were planning to go.
A big topic on most of the senior minds is spring sports: boys volleyball, boys golf, boys tennis, softball, baseball, track and swim. All events for the rest of the spring sport season including meets and practices have been canceled. The Seniors of 2020 will never be able to experience their last game. Senior night is something athletes look forward to since freshman year. Senior night is about being surrounded by fellow athletes and family to celebrate achievements made in sports for the past four years. Now the Senior Class of 2020 who participate in a spring sport will never be able to make that memory.
"If my senior year sports get cancelled over the coronavirus, my heart will forever be broken. Let us play, we've worked too hard for it to be taken away from us." (Found via Twitter @cm_vii)
The Class of 2020 is also worried about their graduation being effected by the exaggerations of the media. At the end of the long 12 years of education students have to go through, seniors expect to walk the stage to receive a diploma. We expect to smile and share a tear or two with family waiting in the bleachers or your best friends next to you. We expect to dress up after for sober grad. Nevertheless, the Senior Class of 2020 may not be able to experience this once in a life time event.
To all of the parents and staff members of the Senior Class of 2020, make sure you are supporting your child.
To my fellow Seniors, I'm sorry this had to happen to our class and my heart aches with you.
Let's hope this gets better and try to make the most of this troubled time.