Seniors Paint Parking Spots
The class of 2023 spent hours painting their parking spots in the student parking lot the week before school started.
The school saw more seniors participating in this event compared to other years.  Seniors share their experience, their parking spots, and the inspiration behind it.
One senior, Sage Areia is involved with FFA and is our school drum major. "I am extremely satisfied with my parking spot." The outcome of his senior year is to participate in every single senior event. Areia loved his parking spot, which features FFA and is looking forward to spending his senior year.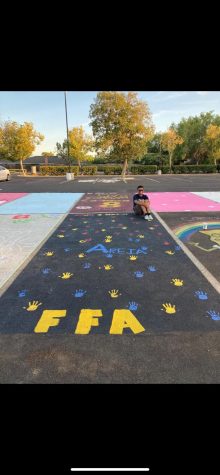 Another senior, Natalia Trinidad painted an American flag on her spot. She shows pride in our country by painting an American flag along with a Chevy emblem to match her Chevy truck. Trinidad's overall outcome for her senior year is to spend time with friends, make fun memories, and graduate with good grades.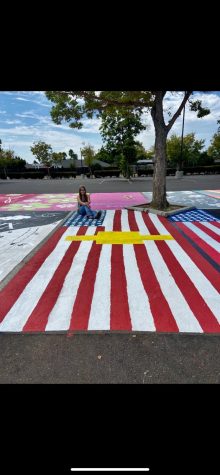 Another senior who rocked their senior parking spot is Lesley Castro. Lesley's spot includes a green moral along with abstract faces. Castro wants the best senior year full of fun memories with friends. Castro, who is also documenting her senior year said, "This why I'm filming my senior year for my YouTube channel; I want to look back on all our
memories and events."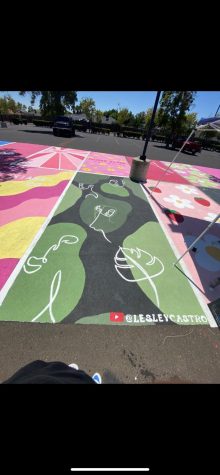 Iselle Chavez painted her parking spot with help from her friends. Her parking spot includes a pink mural and strawberries to go along with it. Chavez states, "I painted strawberries for my sister who is out of the country right now in the Marines, and a pink mural for my favorite color." She loved her parking spot outcome but wished it to be a little more artistic. Chavez's hope for her senior year is to create fun memories and live her year with no regrets.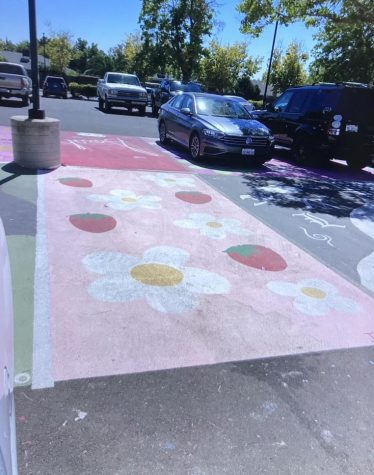 Lastly, but not least, Azalia Gonzales created her parking spot based off her current favorite anime! Her spot is a black mural with a little bit of different anime symbols. Gonzales was very pleased with her spot and her outcome for the year is to make good memories and participate in every senior event.
There are many more colorful and unique parking spots to see.  Be sure to check out the student parking lot.