Mrs. Huerta begins her first year as a chemistry teacher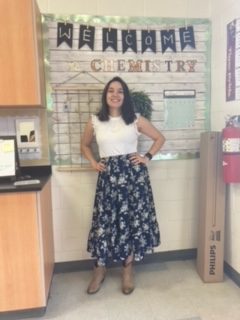 Mrs. Alexis Huerta is a first year chemistry teacher who was hired this school year.
When asked why she started teaching and why she choose chemistry, Mrs. Huerta said, "I want to make a difference by shaping the minds of young adults by teaching because it is one of the most important ways to do it."
Mrs. Huerta was raised with her mother who is also a science teacher.  This allowed Huerta to see and understand how a good teacher can truly make a difference in students lives.
Throughout her whole life, Mrs. Huerta always knew she liked the idea of teaching but she was not sure if she wanted to go into it until she went out in the world and started working and going to college. Then she decided that she wanted to become a teacher.
Well student teaching, she choose to be in a science class because she knew she wanted to teach chemistry. Before she became a high school teacher, Mrs. Huerta taught summer school for multiple grades. She taught summer school for a year after doing her two semesters of student teaching in an earth science and a biology class before starting at LBHS.
When asked if she would ever leave teaching and choose another career, Mrs. Huerta said, " No, I would never go back and choose something different. I love my job and helping students learn about chemistry. There will always be ups and downs with any job, but it makes me happy which is more important when you want to be in a profession for a long time."
We give a big tiger welcome to Mrs. Huerta. We are so excited to have her as a new teacher on campus in room 405.