SOS Album Review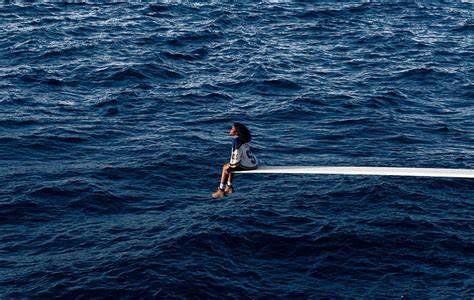 It's safe to say that SZA never disappoints. Released yesterday was SZA's second studio album titled SOS. SZA teased the name of her album on November 1 when she released her music video for the long awaited song called, "Shirt." Fans suspected a new album release by the short snippet of different song towards the end of the music video; as well as an Easter egg on the license plate of a car stating "NO CTRL," a reference to her last studio album.
SZA formally released the name and cover of the album on December 5 with a teaser trailer featuring a song on the album called "Blind."
With little to no idea what this album would be like, fans anticipated it would be just as good as Ctrl.
SZA's first album drop was in June of 2017. Ctrl quickly got attention, making SZA a triple platinum artist. SZA sold over 1 million units, tying with Whitney Houston's own debut album. Ctrl later became the longest charting debut album from a black female artist in Top Billboard 200 ever.
Ctrl told a story of toxic relationships, insecurities, and what coming into adulthood feels like. With no knowledge of what SOS's story was, fans anticipated the best.
SZA has mastered the art of an inner monologue, being able to tell vulnerable, personal stories and turn it into intimate songs with exquisite lyrics. SOS battles back and forth with the idea of "moving on and doing better" and "revenge" while battling with her inner self doubts and body dysmorphia.
SOS shows range of genre from beginning to end. The opening and title track, "SOS", is a "gospel" sounding rap, while the next track, "Kill Bill" is a classic R&B song. "Blind" is focused mostly on vocal and runs, while "Smoking on my Ex Pack" is a hard rap song. SZA even features country-like tunes with the chorus on "F2F" and the entire song of "Nobody Gets Me."
To compare to Ctrl, SOS is a lot looser and confident. It is clear to see SZA has grown more confident in her voice and lyrics, touching on topics she's never talked about and showcasing her vocals to an extreme. While Ctrl was more about fears and insecurities, SZA adds her own touch on SOS about being confident in who she is compared to her exes and relationship trauma.
In my own personal opinion, I have been a huge fan of SZA since 8th grade. Ctrl has always been a no skip album for me from a young age, and I could relate to a lot of the songs. I personally have been one of the fans anticipating this album drop. SOS certainly did not disappoint my own expectations. My own favorites are "Special" and "Kill Bill." Ctrl will always hold a place in my heart, but SOS is indefinitely a modern, relatable album for this generation.