Principal Speaks Out About Improvements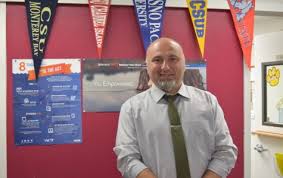 Hang on for a minute...we're trying to find some more stories you might like.
School improvements and "to-do tasks" are never ending, according to Mr. Veli Gurgen, principal.  There are many concerns and questions about needed tasks on the his mind so far this year.
Some campus improvements done over the summer include:  new PRIDE signs to the quad to accompany the PBIS program, changed air conditioner filters across campus, added new carpet in five classrooms, shampooed, waxed and washed the classrooms and gym.  
Improvements also involve staff and students, seniors in particular.  LBHS automatically enrolls all seniors to the Merced College. Also, Merced College courses are available to students on the school campus from English 1A, Math C, Guidance, and Computer Science.  Also, student and staff recognition will continue to reward nominated individuals through the PBIS program.
Mr. Gurgen said, "Well, kids last year wanted a computer science class, so we have been looking for a teacher to bring it over. It's hard to find a teacher, but we did work with Merced College to bring a computer science for juniors and seniors after schoool."
Some future things to look forward to which will help make this year successful include:  rewards for good attendance, behavior, spirit, and getting to class on time, and games at assemblies to involve more students and help create more tiger pride and enthusiasm.
Mr. Gurgen mentioned new social media ideas.  He hopes to expand the social media outlook of  the school by improving videos, having a more interactive Twitter, and encouraging students to follow the social media of Los Banos High School.
There are still issues Mr. Gurgen would like to accomplish for the school. There is his long battle with renovating the old pool for school use. He expresses that in order to have a pool, parents and students need to not come to him about a pool, but to the school district and board and request for a pool or improvements done to get the pool up and working again.
Architecture was also discussed, and Gurgen says that the school needs a fresh look, with new bathrooms and renovations with the buildings because the school was established in 1966, and the buildings have been almost the same ever since.
Mr. Gurgen is highly energetic and has a very positive outlook for the upcoming year, claiming that the school has fantastic teachers and faculty.
"I am excited; fantastic staff, all classes are fully staffed, the custodial team worked hard over the summer to get the school ready. There's still a lot of work to be done, there's no denying that, but we made some good progress last year. We have great clubs, continuing clubs, senior activities, and we got an energetic class assembly," said Mr. Gurgen.
He added, "It's going to take all of us to be united. This one message is what we need to say every chance we get."