The Tiger Den Discusses the DP Game
Hang on for a minute...we're trying to find some more stories you might like.
The DP game has passed us by, but on this week of the Tiger Den, we are going to be taking you into the minds of the Tiger football players. We will also be discussing their reactions to winning Team Of The Week for their game against Dos Palos.
Starting of with one of the teams coaches, Mike Tate, we ran through a list of questions for both him and several players. Tate, who has seemed pretty popular to our news group, was very open to answering questions we had ready for him. We asked him what he thought the main credit was for the Tigers winning Team of the Week, which he replied, "The team came together and worked as one and believed in one another."
When asked about how he felt about the team thus far, he was very pleased, mentioning the team's undefeated record. Something, which came to no surprise when asked about the standout player on defense, he mentioned no name, giving credit to all of the defensive players.
We did not get the chance to talk to the team's running back, Antonio Lopez, junior. We did speak to several of the offensive lineman, John McClendon, senior and Manuel Carrillo, senior, about how it feels to be on offensive line. They replied it is hard because of the bruises and such, but they say it is honestly fun. "We have such a close bond together, and we work together even when times are hard."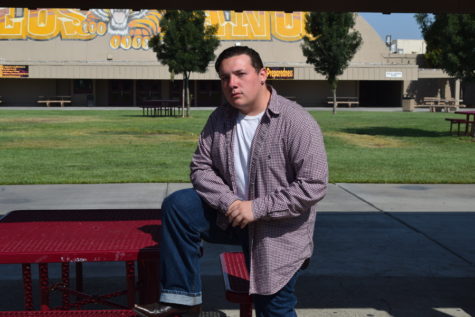 Matthew Rivera, Staff Reporter
My name is Matthew Rivera.  I am a sixteen year old senior at Los Banos High School. This will be my first year in journalism, and I am excited to begin...