Jorge's Tiger Den: Wrestler Saul Madriz Takes First Place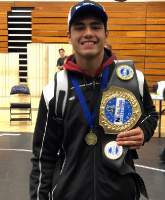 Hang on for a minute...we're trying to find some more stories you might like.
This Week on The Tiger Den, we're going to talk about Senior Saul Madriz taking First Place at the Mike Tamana Tournament. We got the chance to speak with Mardiz this week and asked him several questions.
The First Question that we asked was, "How does it feel being in your final year of high school as a wrestler?" Madriz responded, "Good, I feel like I need to go hard and try my hardest after wrestling for 9 years; this is my final year."
We also got to hear his opinion on his placing 1st at the Mike Tamana Tournament.  Madriz replied, "It felt great to get first place there. It was challenging, and I feel like it gives me the urge to work harder."
We asked him how he felt about continuing wrestling after high school. Madriz followed it up by saying, "No, I love the sport, but it's time to focus on life and start looking for a career path I want to follow."
The next wresting tournament will be at home on January 23 against Livingston.