The Oscar buzz! The Beauty of Film!
Hang on for a minute...we're trying to find some more stories you might like.
Every year, directors, producers, and actors come together to create a film either intentionally for an Oscar bait, or without the attention. Either way, the Oscars are only a month away, airing on March 4. Of course, it will take place in Dolby theaters in Los Angeles and is the 90th Academy Award celebration- almost a hundred years of celebrating the best films.
The nominations are in.  Many great and experimental films were made from the minds of visionary directors in a time of scandals with actors and directors, thanks to the Harvey Weinstein effect, but it never stopped some films to be great after all the drama behind the scenes.
The Best Picture nominations include:  Get Out, Dunkirk, Call Me By Your Name, Darkest Hour, The Shape of Water, Lady Bird, Phantom Thread, The Post, and Three BillBoards Outside Ebbing, Missouri. One huge disappointment was the absence of Blade Runner 2049, a phenomenal film that deserves more than just technical nominations, but a best director, cinematography, and picture nominations.
Actors and Actresses are the next big nomination buzz when it comes to the Academy Awards. They show true talent and emotion in their roles, which rightfully deserve nominations. The nominations for the best Actor are: Timothee Chalamet in Call Me By Your Name, Daniel Day Lewis in Phantom Thread, Daniel Kaluuya in Get Out, Gary Oldman in Darkest Hour, and Denzel Washington in Roman J. Israel, Esq. Again, Get Out receiving nominations, a very excellent film of 2017 with terrific performances. However, some actors deserved better such as Ryan Gosling, in Blade Runner 2049, and Jeremy Renner in Wind River.
Nominations for Best Actress include: Sally Hawkins in The Shape of Water, Frances McDormand in Three BillBoards Outside Ebbing, Missouri, Margot Robbie in I, Tonya, Saoirse Ronan in Lady Bird, and Meryl Streep in The Post. Only real snub was Elizabeth Olsen in Wind River was not nominated.
Finally, directors are the key to making the vision of a film possible, and without them, the script would be a mess to adapt. The nominees for Best Director are: Christopher Nolan, Dunkirk, Jordan Peele, Get Out, Greta Gerwig, Lady Bird, Paul Thomas Anderson, Phantom Thread, and Guillermo del Toro, The Shape of Water. Jordan Peele received his first Oscar nomination. Again, wish the director of Blade Runner 2049, Denis Villeneuve, would have received a nomination because the the film is considered by many the masterpiece of 2017.
If you are interested in all the other categories such as best score or best cinematography, search up "Oscar 2018 nominations" to find the full list.
On the topic of celebrating film, every year more ambitious writers and actors step up to the plate to deliver an experience, try to trance us into a sense of either fantasy and realism. Our generation is the best example of offering all kinds of short films or movies. Stylistic videos which contain a simple plot, but a variety of creative camera shots and angles which immerse the viewer to the place the person is holding the camera.
Short Films on the topic of love or racial disparity resonate with the magnificent characters people write in their screenplays. The most important of all is the creativity and innovation these new young aspiring directors want to be.  
These are the type of people who truly have a passion for film, and not many people right now see it. Its important to embrace theses new ideas, show how a simple camera can film a masterpiece. Film seems to be more and more criticized in the age of the internet, but film still creates art, in themes and emotions. Film can inspire many, and has done for over a century. Now is the time to truly embrace it, ask a friend or teacher what film they recently saw, or what their favorite movie is. Keep the conversation going.
Mrs. Thacker, Freshman Honors English and world literature teacher, spoke about her support for young filmers. She said,  ¨Yeah sure, absolutely! Anytime a student wants to use the right side of the brain to create something special.¨
Maria Campos, a sophomore, enjoys watching films for a past time. She said, ¨I like watching films. There are really sad or funny films to watch, the only issue I have is the endings would undo all the build up.¨
A young director friend, Nick Michael from Fresno enjoys making short films for fun.  He hopes to venture into the movie industry after high school.  He made many different films locally and in other areas.  A link is provided to check out this talented teen.  Nick Michael's video is here: https://youtu.be/m4VTL9L8EKw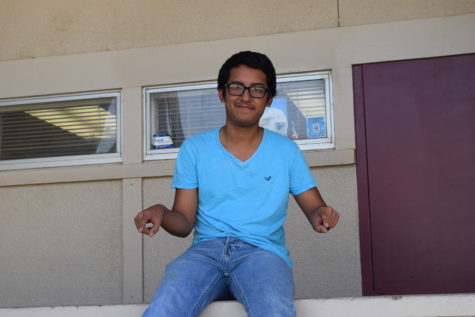 Paulo Campos, Staff Reporter
Hello there, name's Paulo Campos, or as most know me, Major Paulo. I am currently a junior this year and 16, at the time I write this. I look forward...