Wrecking It At the Ranch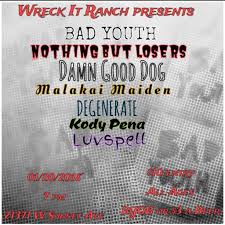 Have you ever found yourself wishing to enjoy original music played live without having to travel all the way to Fresno or further than that? Well, you will be delighted to learn that Los Banos had its very own musical event on January 20th, 2018. The newest upcoming festival aimed at all things "Valley Music," Wreck-It-Ranch on Sunset Drive.
The plan is very simple; show artists what it's like to be rewarded for their hard work. It all came from two friends who were cleaning up on a plot of land and thought it would be cool to do something with the land, rather then just let it sit there.
The whole thing is very organized, and unlike most concerts, it is not heavily regulated, meaning pretty much anything goes in regards to the type of music played as well as the recreational activities such as hanging out with your friends, enjoying the bonfire, or simply listening to the music. The very small festival features live music from all genres. The function does not end until all of the players have finished their music which makes the run-time indefinite.
The first Wreck-It-Ranch success helps keep it going for a second, and now a third. As the festival has gained some recognition due to the overwhelming support from it's Twitter followers and artists have been finding out about when and where to perform.
The most recent "Ranch" was open to ages 18 and up. The next occasion is set for April 20.  Because the "Ranchers" or the "Wrecking Crew" wish to ensure that the festival is enjoyed by all, semi-strict measures are taken to prevent anyone from actually  ruining the fun. The front gates are regulated through both traffic control who direct arriving vehicles to the car park as well as the actual entrance which is where you drop your funds. The money that you pay actually buys you a ribbon that shows the security that you have been checked into the function. 
We got the chance to speak with one of the founders of the concert, AJ Higlesias who is a comedian from Los Banos. He told us his plans for the event, mentioning that he was hoping that it would gain more recognition.
The people running the show do not take any money for themselves. Instead, they pay the artists for their performance and show them what it is like to be a professional artist. The event seems to have a bright future and seems to be going places and most importantly, seems to be giving more attention to inspiring artists.
April 20 is the next event.