Nintendo Switch A Success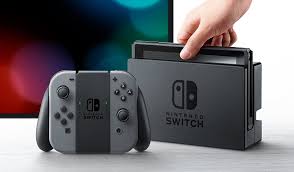 Hang on for a minute...we're trying to find some more stories you might like.
Nintendo's latest console is almost a year old, and in this short time, Nintendo was able to beat their competitors in sales, as well as outselling their own previous console.
Nintendo has not been this successful in a long time. Their previous console, the Wii U, despite having some great games, was a commercial failure, only selling 13 million units in its lifetime. The Nintendo Switch on the other hand, has sold almost 14 million units in just its first year, which means Nintendo's latest console outsold it's previous console's entire lifetime sales.
The Switch was released on March 3, 2017. Nintendo released one of their biggest game on the same day, The Legend of Zelda Breath of the Wild. The game was announced back in 2013, nearly four years before the Switch was even announced. Fans have been waiting several years for Breath of the Wild, and it didn't disappoint. It became an instant bestseller, with many people buying a Switch just to play it, and it was also a huge critical success, getting 10/10 from IGN and Gameinformer, as well as a score of 97 on Metacritic. It also won the Game of the Year Award by over a dozen top video game sites.
The only game to rival Breath of the Wild is Nintendo's next big title of 2017, Super Mario Odyssey. Mario has built a reputation of being one of the most iconic video games ever, and his latest adventure did not disappoint. It gives both newcomers and veterans something to love, and went on to be one of the best selling games of 2017. Now game reviewers are stumped: is Zelda or Mario the better game?
Switch owners were given several other great games last year. Splatoon 2, Mario Kart 8 Deluxe, Doom and the blockbuster Skyrim. Splatoon 2 put a spin on the traditional shooter style, making for a surprisingly challenging and colorful online action game. Mario Kart 8 added several new stages and characters, as well as an improved online mode to the beloved racing game. Xenoblade Chronicles 2, sequel to the cult-classic RPG, gave role-playing fans an addicting fantasy experience. Fire Emblem Warriors was also released as a spin-off to the beloved strategy game, which recently became very popular thanks to the hit mobile game Fire Emblem Heroes. Other games include remasters of older games that can now be played anywhere thanks to the Switch's ability to be taken and played everywhere, including classics like LA Noire and Skyrim, and 2016's Doom was given a Switch port.
The Switch has a bright future ahead of it. Nintendo announced several games last year that will be released on the Switch in 2018 and beyond. Standout titles include Metroid Prime 4, which fans have waited over a decade for, as well as a new Kirby, Yoshi, and Pokemon game, all with large fan bases excited to see them come to the new console. Nintendo also plans to rerelease games from the Wii U to the Switch. This is perfect because many people who own a Switch did not own a Wii U, so now they can enjoy the games they missed out on. Titles include Hyrule Warriors, a spin-off of the classic Legend of Zelda series, and Donkey Kong Country Tropical Freeze, the latest edition in Nintendo's challenging platforming series. Dark Souls Remastered is easily the most hyped game to be rereleased on the Switch.  Now fans can play Dark Souls anytime anywhere thanks to the Switch's portability.
Critics are impressed with Nintendo Switch, and admire how Nintendo was finally able to get with the times. Online gaming is huge now, and thankfully, the Nintendo Switch offers great online modes for many of their games, but struggles when it comes to voice chat and adding friends. The Switch itself is a very impressive piece of hardware, one that other companies should be taking notes on. Nintendo also made the Switch region-free. This is very important because Nintendo is based in Japan. Several games over there take a long time to get localized in America, or many times they don't get localized at all. Now thanks to the Switch being region-free, anyone from any part of the world can access the Japanese store, and purchase games that are not available in their country. Feedback for the Switch has been for the most part very positive, thanks to it's impressive technology and great exclusive games.
The Switch was announced on January 13, 2017, in a livestream presentation that had hundreds of thousands of people around the world watching. "I remember the hype I felt when the presentation started. I couldn't even sit still, that was so exciting," says Erik Mancias (11), who purchased a Switch last fall after saving up enough money. When asked what he bought it for, he said "I really wanted to play Zelda, I think everyone did. I bought it the day Mario Odyssey was released, and I got Zelda and Mario Kart with it."
"I watched the presentation back in January, but I didn't think it was too exciting. They should have waited until they had more games to announce," says Anthony Torres (11), who bought a Switch last summer. "Zelda is a lot of fun, so is Mario. Splatoon 2 is also pretty good, even though it looks lame, the online is so much fun."  He says, "I'm looking forward to Dark Souls Remastered. I'm gonna buy it the day it comes out. I'm also gonna buy that new Kirby when it comes out in March."
Mr. Garber has been a long time video game fan. "I haven't bought a Switch yet, but there's a lot of games that are worth buying. I just don't have enough free time to play them all."
Mr. Garber owns a Wii and is a big fan of Zelda. "Zelda is the best game ever. I'd buy a Switch to play it, but I already have it on my Wii, so I'm good for now."
The Nintendo Switch surprised many, and there are sure to be several more surprises in the future. The Switch is currently priced at $299, with additional costs for games and accessories.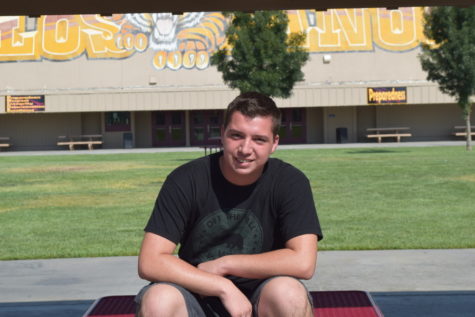 Diego Reynoso, Staff Reporter
Hi. My name is Diego Reynoso. This is my first time in journalism, so I'm excited to report all the interesting stuff that happens this year. I'm a...