Band Participates in Elementary School Halloween Parade
Hang on for a minute...we're trying to find some more stories you might like.
On October 31, 2018, the Los Banos High School Marching Band did their annual Halloween Parade at LBE and Westside Elementary.
Halloween falls every year on October 31. People dress up in costumes. Children and teenagers go Trick-or-Treating around their neighborhood in hopes of free candy.
To relish the Halloween spirit, Westside Elementary school puts on a Halloween parade for the students to enjoy and kindly invites their neighboring school, Los Banos Elementary to join them. They invite the Los Banos High School band to play Halloween tunes for the kids.
"In was fun. I want to do it again next year, hopefully with my flute being fully operational. It was really fun though; I like being in costume," said Vivian Dorris (9).
This year, the selection of songs that the LBHS Marching Band played was: "Ghostbusters", "Halloween Music", and "Spooky Scary Skeletons." "Halloween Music" is a selection of three small songs. These songs are: "Have You Seen the Ghost of John," "Dr. Acula," and "The Gnome."
From the start of October the LBHS band began preparing for this parade. They raised the tempo of all the songs to 120, the classic marching speed. They picked everything up rather quickly.
The children were especially big fans of "Spooky Scary Skeletons," which the LBHS marching band students were also excited about.
During the parade, the Los Banos High School Color Guard handed out Halloween themed erasers to the children.
For this parade, the students were excused from their first and second period classes. They were required to dress up in their Halloween costumes to be festive. Some costumes were creative, like a couple's costume of peanut butter toast and jelly toast. Other costumes were funny, like a large, inflatable Unicorn costume.
When the students came back from the Westside and LBE Halloween Parade, they gathered in the center of the band room for a group Halloween picture.
The students put their stuff away and then went on their merry ways to break, excited for Halloween parties and Trick-or-Treating.

About the Contributors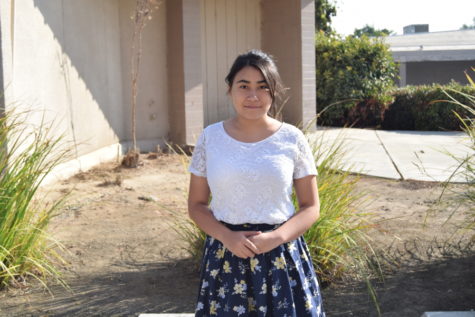 Faith Zako, Staff Reporter
Hello, I am Faith Zako, a senior of the 2019 graduating class. I love to read and write. I am in band and no other extracurricular activities. This is...