Bohemian Rhapsody Now Playing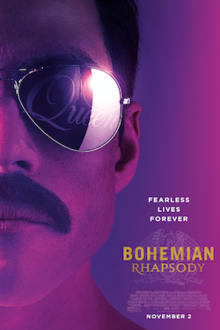 Hang on for a minute...we're trying to find some more stories you might like.
If you like the band Queen and their music, take time to watch a new movie out this winter, Bohemian Rhapsody, directed by Bryan Singer.
The movie was first announced in 2010 and it took about eight years for it to come out in theaters. There were many issues with casting over the years, until February 2016, when they found Rami Malek, to play Freddie Mercury, the lead singer of Queen. Other cast members include, Ben Hardy as drummer Roger Taylor, Gwilym Lee as lead guitarist Brian May, and Joseph Mazzello, as bass guitarist John Deacon.
The plot is based around Farrokh Bulsara, (Freddie Mercury) an Indian-British Parsi, a college student and baggage handler at Heathrow Airport. As he watches a band he has been following, named Smile, he meets the band's guitarist, Brian May, and drummer Roger Taylor. He offers to replace their singer, who had quit that night to join another band.
The movie is revolved around lead singer Freddie Mercury's part of the story and his life from being an outcast immigrant in society to becoming a world famous artist and his struggles through the journey.
The film shows the rise of the band through their most iconic songs and revolutionary sounds. Songs included in the movie are Bohemian Rhapsody, Somebody To Love, Another One Bites The Dust, and so much more. It then takes an unexpected turn for Freddie Mercury and the dark influences that surround him as he pursues his solo career.
During his solo career, he begins to suffer greatly after facing a recent AIDS diagnosis. Freddie manages to reunite with his old band, in time for Live Aid, where Freddie leads the band for one of the most greatest performances in the history of rock music .
"Bohemian Rhapsody creates a watchable paint-by-numbers ride through the Queen Saga, yet its rarely the movie it could or should have been" – Variety 
"Bohemian Rhapsody hits a handful of high notes, but as an in-depth look at a beloved band, it offers more of a medley than a true greatest hits collection" – Rotten Tomatoes
Bohemian Rhapsody is now out in theaters.