Thanksgiving History and Macy's Day Parade Celebrated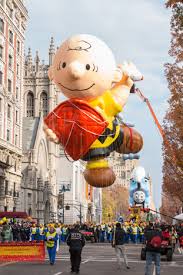 Hang on for a minute...we're trying to find some more stories you might like.
Thanksgiving is celebrated all over the world as it is a national holiday in the United States. Thanksgiving 2018 occurs on Thursday, November 22. In 1621, the Plymouth colonist and Wampanoag Indians shared an autumn harvest feast that is now known as Thanksgiving. For more then two centuries, thanksgiving was celebrated by individual states and colones until 1863 when President Lincoln declared it a national holiday.
Now thanks to him all schools reward students with days off in November for students and families to celebrate this holiday. Apart from this, the Macy's Thanksgiving Parade takes place and is televised nationally for those who do not attend. This parade began in the year 1924 and is still a tradition till this day. It takes place in New York where it begins on West 77th Street & Central Park West at 9 a.m. This is a free event and no tickets or reservations are required. Floats arrive the night before from New Jersey, and the crowd can watch how the floats are assembled.  The next morning when attending, people need to remember that some spots are restricted due to the television broadcast. Early birds arrive as early as 6 a.m. on the west side of Central Park West from West 75th to West 95th streets to claim their spots and get the best view when it starts.
The five most popular Macy's Thanksgiving Day Parade character balloons are Charlie Brown, the funny cat Garfield, Mickey Mouse, Big Bird from Sesame Street, and the popular Spider-Man. The parade will finish off on West 81st street  and Central Park West, right in front of Macy's.
Happy Thanksgiving to all LBHS students and staff. Enjoy this week off to eat, spend time with your family and watch the famous Macy's Day parade.