Top 5 Places To Go This Christmas Season 2018
Hang on for a minute...we're trying to find some more stories you might like.
The holiday season is quickly approaching, trees are decorated and lights are up. Have no plans this Christmas season? Well don't worry here are the top places to go!
The Polar Express Train Ride – Sacramento, Ca
Natalie Brunell /KCRA
The Polar Express Train Ride in Sacramento, California is a hour-long trip to the North Pole. Passengers can enjoy hot chocolate and tasty cookies as they ride along with the story's characters. Once they reach the North Pole, Santa himself will come on-board the train to give each passenger a silver sleigh bell, as the "first gift of Christmas." The Polar Express Train opens on December 23, 2018 and closes on January 1, 2019. It is closed on the 26th and the 27th. Buy your tickets before it sells out!
2. Winter Wonderland – Sacramento, Ca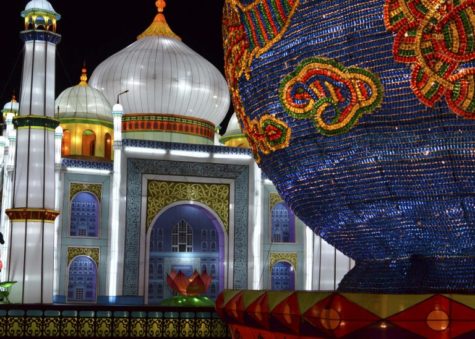 Flickr/ClickShutterMedia
In Fairytale Town in Sacramento is decorated with many festive trimmings and is lit up with beautiful dazzling lights. Winter Wonderland opened on November 16 and runs through the whole winter season. This wonderful holiday event features holiday-themed activities for little kids, illuminated landscapes, ice-skating, thrill rides, and also the opportunity to meet Santa and take a picture with him!
3. Christmas in the Park – San Jose, Ca
NBC Bay Area
Christmas in the Park takes place in the heart of downtown San Jose at the Plaza De Cesar Chavez. For over 38 years, the two-acre park is transformed into a huge holiday fantasy with over 40 musical and animated exhibits, ice skating, sparkling lights and a 60-foot Christmas tree.  Christmas in the Park is free to the public and is open from November 23 to December 25, 2018.
4. Holiday Lights Train – Santa Cruz, Ca
Native Santa Cruz
The Santa Cruz Holiday Lights Train is the chance to enjoy some old-fashion fun, while riding vintage train cars on December 1-2, 8-9, and 15-23. Passengers can drink hot spiced cider while listening to Christmas music, singing carols, and visiting Santa Claus. When they arrive back at the boardwalk,  they can enjoy arcade games, rides, and go ice skating!
5. Festive Lights  – Gilroy, Ca
Gilroy Gardens has holiday night which features ice skating under beautiful lights, visits to Santa Claus, and "A Charlie Brown Christmas" live show.  People can walk around the park and watch the twinkling lights. There is also a huge holiday feast with all the trimmings. Night time tickets are only $15. People with premium cards can get in for free every night and even take a friend for free on Friday nights. It is now open on Fridays and weekends from 4-9 p.m. and also the whole week of December 16 through the 22.
Enjoy the holidays doing something festive.