Movie Review: The Possession of Hannah Grace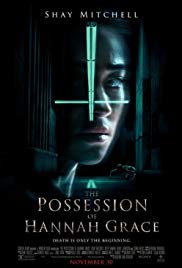 The Possession of Hanna Grace is a mystery/horror movie that just came out on November 30, 2018. The director is Diederik Van Rooijen, and the main cast crew is Shay Mitchell (Megan Reed), Stana Katic (Lisa Roberts), Grey Damon (Andrew Kurtz) and  Larry Eudene (Doctor).
The movie is about a shocking exorcism that spirals out of control, claiming the life of a young woman name Hannah Grace. Months later, morgue worker Megan Reed takes a delivery of a disfigured cadaver during the graveyard shift. Locked inside the basement corridors, Megan's horrifying visions soon lead her to believe that the body is possessed by a demonic force. 
Diederik Van Rooijen was born in The Netherlands (1975), grew up partly in Greece and in The United States. He graduated from The Dutch Film Academy in 2001 with his English spoken film Chalk. Diederik is currently living in Los Angeles with his wife and two children. Diederik is a creator, writer and director for film and television. Besides his feature film and television projects, he is also working for the 25 FPS Commercial Production company.
My favorite part of the movie, was how Hannah Grace would be walking around like a spider with her head turned the opposite way. I also liked when she was climbing and going down the walls.
So the father of Hannah Grace tried to help Megan and let her know about the body, and how she wasn't really died, and how there was a demon inside her still, but Megan didn't listen because she thought the father was a homeless guy, and the more Hannah Grace kills somebody, her body heals from all the open wombs and regenerates to kill everybody in the building.  Fortunately, she doesn't succeed.
The movie was alright; it wasn't the best. The plot of the movie wasn't good, nor was the character development. When the characters die, there is not much of an explanation on where they went and nobody really tries to search for them or cares about them. If I had to rate this movie, I'd give it a 6.5 out of 10. It wasn't that bad, but it also wasn't that good either.