Boys Tennis Starts Practices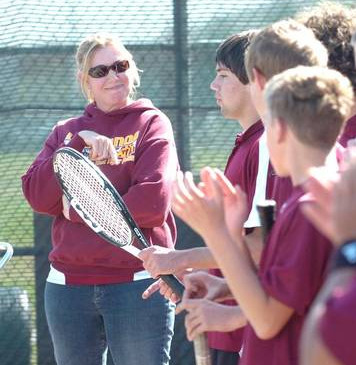 Hang on for a minute...we're trying to find some more stories you might like.
       Boys tennis has unofficially begun. On December 4, the boys' tennis team of Los Banos High School had their first practice. They started to practice now rather than when their season starts, so they can get extra practice in.
       Boys tennis practices Tuesday and Thursday of every week. Practices will not take place if it is raining or the courts are wet. This is because if the courts are wet the ball can hit a puddle and will not be able to bounce anymore. Also, rain causes the strings of tennis racquets to become loose, making it easily breakable. Ms. Barcellos, the tennis coach at LBHS, says she wants to get a head start on practicing, so she can get her old players back into tennis shape and allow the new players time to get a handle on how to play.
       Ms. Barcellos said that she had a lot of seniors last year that graduated, so she is hoping that new players will come out. If not, it is possible that she will not have a full team this year. "The boys' tennis team had a lot of seniors last year. Over half of them. It is possible to win without having a full team, but it would be nice to have a full team this year as well,"  said Ms. Barcellos.
       The tennis team last year had a total of 18 players, and eight of them were seniors. That means, at most, 10 players from last year will be on the tennis team. A full team in high school requires 12 total people. Singles requires six people as well as doubles. That means she needs at least two new players to have a full team. It is also unlikely that all 10 players from last year will come back.
Consider tennis as a spring sport and come out to play for the team.