Teacher of the Week: Miss Fajardo!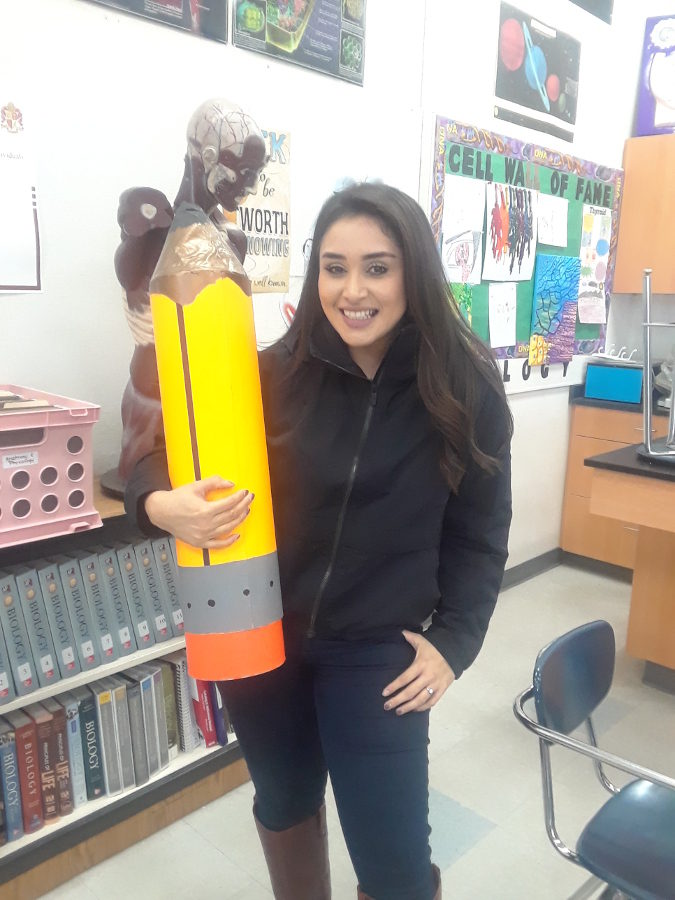 A new teacher spotlight hits the arena! Focusing on the science wing, Miss Fajardo is here to share her experience with not only her life but her teaching experience too!
Miss Fajardo has been teaching here at LBHS for three years. Receiving her diploma from Los Banos High School, and getting her degree at UC Davis not too long after, she has "fulfilled one of my dreams" by finally being able to teach back here with her former teachers (who are now her colleagues). Her students in both her Anatomy and Physiology and AP Biology class are "unique and brings different assets into the classroom," and as Miss Fajardo says brightly, "The outlook that I have on my students is that they are all completely capable of succeeding; it just takes time, motivation, and commitment. And when they don't have the motivation, I am here to give them support to help them succeed in their academic goals."
Other than her students, Miss Fajardo loves the school she teaches at and the staff she works with. "This school has welcomed me since day one. As a matter of fact, I am an LBHS Alumni and I am proud to be back. "Once a tiger, always a tiger!" says Miss Fajardo. She also works as a class advisor during rally days saying, "I get to see the creative side of some of my students with the rally decorations."
She appreciates Los Banos High School stating, "Honestly, by working at LBHS, I have fulfilled one of my dreams." Miss Fajardo is an excellent inspiration to many students that have her this year or previous years, and her opinion on her own choice of career? As simple as she put it, "Science is such an intriguing topic and it allows me to consistently discover new things and stay up to date with current events."
Aside from her work life, Miss Fajardo also has a personal life just like anyone else. "I do not have a husband (YET!). I am currently engaged to my college sweetheart, and we are getting everything ready for our spring wedding," Miss Fajardo says. "The only kids I have to worry about are my students. Considering that they are teenagers, I have enough for now…maybe I will have my own in the future." Besides her opinion on children, she does have two small babies to take care of. "I have two dogs, a German Shepherd named Quasar and a Labrador Retriever named Mocha. They are both puppies still and are very active spoiled brats." Miss Fajardo seems to have her hands full, but with puppies instead.
Thank you for being such an inspirational teacher, Miss Fajardo.  If you haven't met her yet, go to room 406 to say hi.
About the Writer
Dezare Lozano, Staff Reporter
Hello! My name is Dezare and this is my second year as a journalist. I am a (surprisingly) proud 2019 future graduate and one of my favorite hobbies is...