Farewell, Mr. Nocito.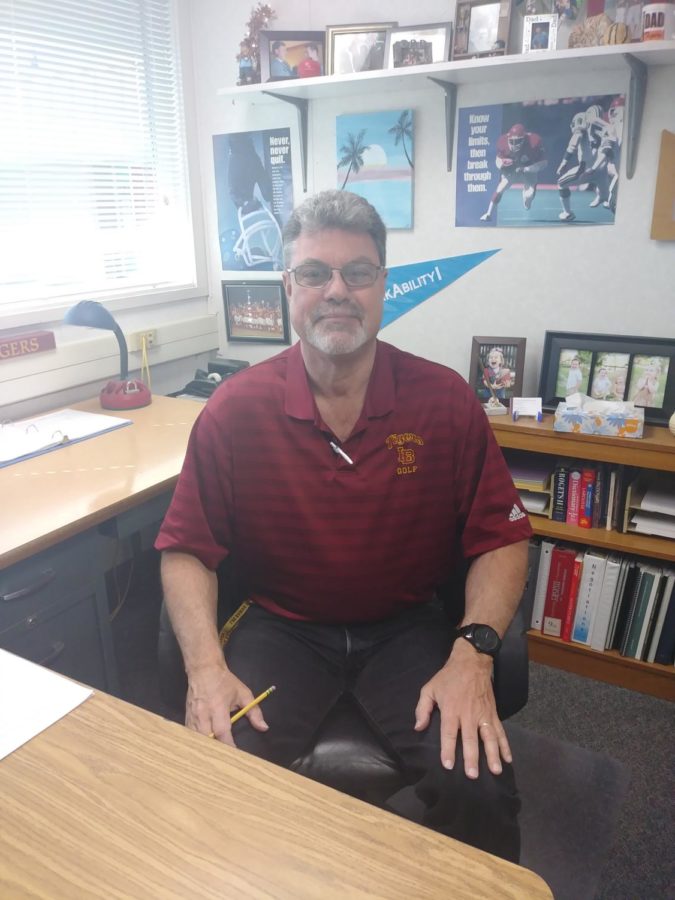 This June, one very important and loved teacher at Los Banos High will be departing from us, helping many students become who they are today and even going as far as helping the impossible become possible.
Mr. Randell Nocito, A Special ED teacher who works with the students in room 34, is retiring after 37 years of hard teaching. Many students around the campus have heard, talked and have really had a strong bond with Mr. Nocito, but are saddened to hear the news that he is departing from the teaching field.
Mr. Nocito was born in Los Banos and graduated here at Los Banos High in 1977. While at Merced College after graduating High School, he worked part-time bagging groceries at supermarkets. "They called us bag-boys in those days, but I also had worked at McDonalds, flipping Big Mac's. I had even swept up and mopped up floors in some of the businesses downtown to help pay for college." Despite the hard work to pay his tuition, Mr. Nocito quotes, "It was really well worth it," because it got him years of doing what he loves.
Soon enough, after going to Merced College for two years then transferring to Fresno State. He then started teaching almost immediately, in 1982, after graduating from Fresno State, working in Fresno Unified School District.  After a year there, he worked several more years in Dos Palos as a teacher.
"I wanted to be a teacher ever since I was in high school," Mr. Nocito says. "In my senior year, I was a TA for a Special ED teacher here [Los Banos High]. I loved working with those groups of students. That was my goal: to become a Special ED teacher." Mr. Nocito gratefully adds that in order to make your dream a reality, one has to work hard for it. "If I had to say something to the students here at LBHS or to my students, it would be to pursue your dreams. Work hard for what you want, because it won't come to you."
Even for the students that believe they don't have any future, he says this to them: "My teachers never believed that I would even pursue my career as a teacher, let alone be in the educational field. I was the "bad boy" in my time, but I did pay my dues in college. Don't let anyone tell you who you need to be, because you can be yourself in your own way that you love."
For teachers, Mr. Nocito advises some important subjects. "The profession had really changed. My only advice I have for future teachers and current teachers right now is to focus. Focus on the students that you have to deal with. I know it's harder to tie around yourself that you're making an impact on the students, but many years from now you may come across one of your former students and they will tell you how much you have changed their lives."
Through the memories Mr. Nocito has, he states that he will miss the students very dearly and miss working with the vocational program for our disabled students. "I will miss providing transition services, providing jobs and providing vocational experience for them too. I will miss all of that in my last 15 years of teaching at this school. Although, that was one of the most rewarding things in my life: seeing the immediate results."
Farther down memory lane, Mr. Nocito recalls an amazing teaching memory. "I know we're not supposed to have favorites, but there was a sophomore student in my early teaching years who was a straight A student. I was told he had brain cancer- but thank God it was operable!" The student was an athlete, a good and known person around the campus. But after the surgery, almost the entire left side of his brain was gone. "He had to learn everything all over again. He had to become a left handed writer, he had to memorize a lot of things that normally was learned back in elementary school. He was moved into my class, and trust me it was extremely challenging. But we still did it. He graduated and we still keep in touch today." The student is now married and has two kids, and Mr. Nocito uses his story as an example of how students could do anything they can put their mind to.
His teaching career has really impacted others, but he has his own private life away from work too. Mr. Nocito has a wife and two children, and also two grandchildren. "I had a Brittany Spaniel, but we had to put her down due to old age. I do think I will adopt another dog in the future."
Retiring is the right thing for Mr. Nocito. "I do think it is," he replies. "I've worked 37 years, and I do believe it is time for me to retire. I am looking forward to spending more time with my grandkids who live in Fresno." Mr. Nocito does plan to be busy during his retirement; he and his wife do want to travel and spend time with family. "Besides being a couch potato, I think I'm going to take retirement how it goes." Mr. Nocito hopes that retirement goes well for him, and he is ready to reach that stage in life.
Los Banos High wouldn't be the same without Mr. Nocito, and we are overly glad to have had an amazing teacher who can work with the special needs. Thank you for being part of this large family, and just remember, once a Tiger, always a Tiger!
About the Writer
Dezare Lozano, Staff Reporter
Hello! My name is Dezare and this is my second year as a journalist. I am a (surprisingly) proud 2019 future graduate and one of my favorite hobbies is...