Being an Exchange Student in Los Banos
I am Emma Norin, a staff reporter for PawPrint News, and I am a foreign exchange student from Stockholm, Sweden. 
The process of becoming an exchange student is not easy; there is a lot of work behind it. There is a lot of signing papers, interviewing, signing out of school, visiting the American embassy, visiting doctors for appointments, and so on. I had an organization that fixed everything in America for me, so basically you just fill out a form, pay them, and then they send out your application to families that want to host. The family that likes your application selects you as their exchange student, and then the organization finds a school near you. When everything is done they call you, and then you find out where, to who, what school, and when you are leaving. 
My case was not ideal for how it should work. I submitted my application in December last year, waited all spring, summer, but never got the call. Three days before I was leaving I found out everything. I waited all summer, not even knowing what state I was going to. Then they called me August 1 and told me I was leaving August 
I packed my bags, said goodbye to everyone, and then I just stood at the airport with my 23 kg suitcase on my way to New York for soft landing camp. It was so surreal, and everything went so fast that I think I was in shock the first few weeks here. I did not expect it to be so wearing to move here, but it has not been easy.
I am used to having my everyday friends, my family, my school, neighborhood, and so on. Now everything was new, and I didn't know anyone. That was like a slap in the face at first, because it was so different from my earlier life. I love traveling and have been to many places in the world, but I have never been away from home for more than four weeks before. I did not expect to miss home as much as I do! 
So, why did I decide to become an exchange student? My sister went away a few years ago to Michigan, and she told me it was the best experience ever, and that I had to do it. I wanted to be completely fluent in English and experience something new. My dad also wanted me to go, and I felt okay with leaving my friends and family for a while, even if it was really hard. I thought: why not, let's try it? 
I've noticed now that America is very different in many ways compared to Sweden. For example, you have to be 18 to be able to take your driver's license in Sweden. It is also more expensive to receive a driver's license in Sweden. My mom has never owned a car, so I am used to going everywhere by myself. I can find my way around Stockholm all by myself with bus, subway, and trains. I know every stop on the subway line all through Stockholm, South to North. People still have cars in Sweden, but if you live in Stockholm like me, you're not depending on your car. 
Guns are absolutely illegal in Sweden. If you possess a gun, you will for sure face jail for lots of years. For me, it is scary and different that anyone is able to buy a gun here. This weekend was the first time ever I saw a gun with my own eyes… Can you believe that? 
The most surprising thing about America to me is how conservative and strict some parents are. I was raised in a family that put responsibility on me early in my life. I have worked since I was 13; I don't have a time to be home at night because they trust me; and I have to get around by myself for school and work etc, or else be late. I cook my own food, clean our apartment, do my laundry, buy everything I need from food to clothing and furniture by myself. My mom treated me like an adult from a young age, and let me make mistakes to learn from it. I don't think I could move to another continent if my parents didn't put that responsibility on me at an early age. 
Schools are probably the biggest difference overall. My year here does not count whatsoever when I come back to Sweden, so I still have my last year in "gymnasiet" (High School) left when I come home. Usually you graduate when you are 19 in Sweden, but I will therefore be 20 years old when I graduate. In High School, we have majors. I read social science with major on behavior/psychology. My boyfriend read economics, and one of my best friends read nature/social science. Other majors are nature, technology, hotel/tourism, carpenter, etcetera. I have noticed a huge difference in the levels in school. My homework and tests were always to write long and discussing essays, while here every test is multiple choice. Schools here are in other words much easier. We don't have any sports through school, no rallies, dances, and activities through school. I think that is the most common reason for people from Sweden to go on an exchange year, to experience the "High School spirit." Our food in school is free and much healthier. In my school we have a big salad bar everyday, which I appreciate. 
Also, most people don't carry around cash at all. Some stores don't even accept it. Most people have an app called Swish, that you can transfer money to another person in three seconds. It is super easy and effective if you owe someone money, but here you would have to find an ATM and take out cash. Swedish money, "crowns" are not worth as much as American "dollars," which means that it is expensive for me to live here. In other words, I don't get as much in America for the money I saved up in Sweden. I have not noticed many differences between jobs here compared to Sweden. 
The food is very different from Sweden, since we don't have as much fast food in Sweden. We have around five different fast food brands in Sweden, here there are far more. It is also easier to find healthy food in Sweden, not only in restaurants but also in grocery stores. We don't have as much processed food.
I think an exchange year is an experience that teaches you so much about yourself and others. I learn about cultures and attitudes that we don't have in Sweden. I am going to be completely fluent in my second language and I get a second family.
If you ever get the chance to move to another country, do it!  
About the Contributor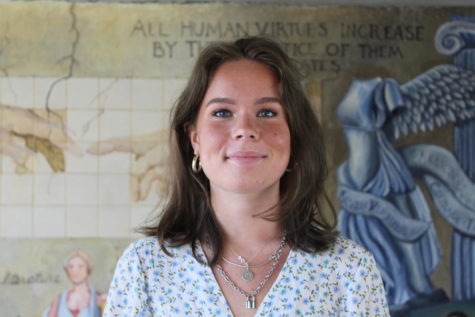 Emma Norin, Staff Reporter
Hi! My name is Emma Norin. I'm an exchange student from Sweden, and this year, I am senior at Los Banos High School. My passion in life is fashion, and...