AirPods Pro Overview
The Apple AirPods Pro were announced on October 28 and were then released two days later on October 30. These new generation AirPods cost $249 compared to the first generation AirPods that cost around $150.
They are advertised as having a slimmer design, noise cancellation, better music listening quality, water resistance, and interchangeable silicone tips that standard AirPods that do not include.
The case of the AirPods Pro is now shorter and wider than regular AirPods. They are compact and can easily slip into any pocket. They are currently only available in one color, glossy white. The AirPods itself now have a shorter stem and silicone tips to help keep them in the user's ear.
The interchangeable silicone tips come in three different sizes to ensure the best fit for the user's ear. Users can test which silicone tip best fits in their ear by using a feature called the "Ear Tip Fit Test." This test will either suggest adjusting the size of the silicone tip or confirm that the user has the correct size in. The flexible silicone tips allow for securing the AirPods in place and creating a seal for better noise cancellation.
When activated, noise cancellation mode blocks out your environment so that the user can focus on what they are listening to. The AirPod relies on an automatic adjustment feature that continuously adjusts outside sound up to 200 times a second. Noise cancellation mode can be turned off or switched to "transparency mode" that helps users hear surroundings. The modes can be changed by squeezing the stem of the AirPods or by using an Apple device.
Transparency mode allows the user to hear their surroundings and feel natural while talking to people around them. Outward and inward facing microphones enable the AirPods to undo the isolating effect of the silicone tip while on noise cancellation mode.
The AirPods Pro have a battery life of four and a half hours compared to the standard AirPods that have five hours of battery life. The battery life of the AirPods Pro is slightly worse than standard AirPods due to the processing for noise cancellation. The case can hold 24 hours worth of charge time and can recharge earbuds quickly.
Apple has a replacement program for lost or damaged AirPods which charges $89 to replace an earbud and $99 to replace a charge chase. Apple sells a set of three replacement silicone tips for $4. AppleCare is also available for AirPods is $29 and is a warranty for two years.
About the Contributors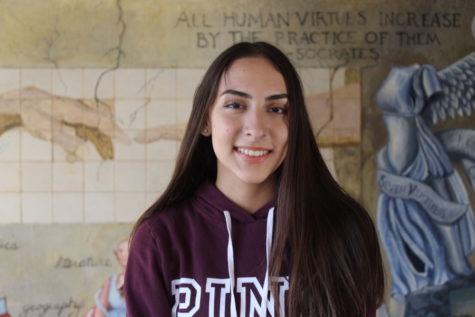 Angela Vance, Staff Reporter
Hi, my name is Angela Vance and I am a junior. I am on the varsity swim team and in my free time, I like to relax. This is my first year in Journalism,...