Boxing: Andy Ruiz Jr vs Anthony Joshua
Hey Tigers!
Are you interested in boxing? Well, you probably heard about the biggest upset in recent history, the first Andy Ruiz Jr. vs Anthony Joshua fight. June 1, 2019 was a worldwide phenomenon for boxing fans and December 6, 2019 was the day everyone was waiting for, the rematch.
Mexican-American boxer, Ruiz Jr. came into the first fight as an underdog because he was widely unknown; however, his record stood at 32-1. British boxer, Joshua walked in like a superhero. The crowd roared, shaking up Madison Square Garden in New York like nothing! Joshua's record was flawless, 22-0.
Their first fight was incredibly tough but one had an edge over the other. Round 3 was shocking to say the least. Ruiz got knocked down from a well timed combination from Joshua but Ruiz returned the fire by knocking down Joshua twice in the span of a minute! Round 7 ends it all, with Ruiz knocking down Joshua twice again in one minute! The referee had to stop the chaos.
The first Mexican heavyweight now held the unified heavyweight championship title. The crowd couldn't believe it.
Rematch:  December 6, 2019. Joshua has been training to get his title back. The popular boxing streaming platform, DAZN has been hyping up this fight like it's going to be the biggest fight ever! Saudi Arabia is where these two titans clash for the second time and it's not going to be the same.
Their second fight was a battle of game plans and just like the last fight, one had the edge over the other. Joshua knows that Andy throws hard, fast, and accurate. He can't stand toe to toe with him; however, he knows he is the smarter boxer.
Rounds 1 and 2, Joshua's jabs were lighting fast and sharp like a spear. Joshua cut Ruiz's left eye right off the bat. Dual exchanges causes Joshua to start bleeding as well.
Round 4, Ruiz unleashes his power to Joshua with a killer combination that would drop anyone, but Joshua keeps jabbing and masterfully evading like he's done for the past rounds.
Rounds 8, 9, and 10, Ruiz starts to pick up the pace, landing cleanly, and more efficiently, but Joshua is surviving and playing it smart. Joshua is cautious of Ruiz's monstrous power shots.
Round 12, Joshua knows he's up on the scorecards and plays this round very smoothly. Ruiz starts gesturing Joshua to come fight in the center of the ring but Joshua doesn't take the bait.
The final bell rings and it's all over for Ruiz, he was behind on points, didn't knock down Joshua, and didn't land any of his full combinations like he did in their first fight.
Ruiz had lost and Joshua regained his title back becoming a two time unified heavyweight champion. The crowded went crazy. Joshua finally defeated the demon that tortured him for over six months, Andy Ruiz Jr.
"I heard that Joshua ran a whole marathon in the second fight," senior, Braulio Palomar commented.
At the post fight press conference, Joshua was asked by a reporter, "'Was jabbing and keeping your distance apart of your plan?'" Joshua responded with, "'Sometimes simplicity is genius.'"
Who will Joshua's next opponent be? Will there be a third fight? Who knows; let's wait and see.
About the Writer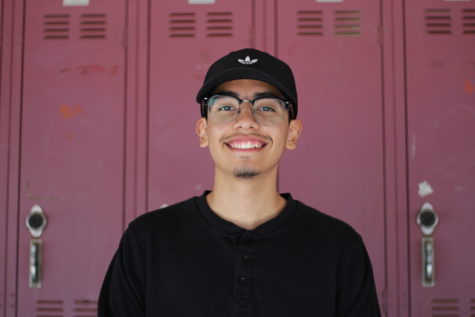 Gabriel Ortiz, Staff Reporter
My name is Gabriel Ortiz. I'm a filmmaker taking journalism for my senior year. I hope to make articles that are interesting and compelling for the readers....