My Favorite Rap Albums of 2019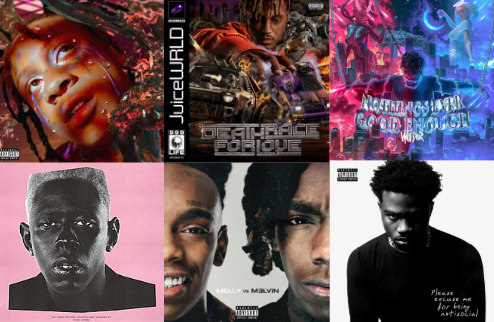 2019 was a great year for the rap genre. A lot of new artists entered the rap scene and many rappers who have not released albums in a while, released albums in 2019. Listed below, are some of my favorite rap albums that I recommend listening to.
#6: Melly vs. Melvin by YNW Melly
This album was released on November 22, 2019 and is 46 minutes long. It is 14 songs long and contains one single called "223's". My favorite songs from this album have to be "Suicidal," "Adam Sandler," and "Nobody's Around." Melly vs. Melvin was released while YNW Melly was in jail and it symbolizes his claim of having multiple personalities. Compared to his last album, "We All Shine," this is a lot better and has more songs that I like.
#5: Igor by Tyler the Creator
This album was released on May 17, 2019 and contains one single named "Earfquake." It is only 39 minutes long and has a total of 12 songs. "Earfquake" is the most popular song on the album and it is one of my favorites. My other favorite songs from the album include, "Running Out Of Time" and "I Think."This album contains features from other popular artists including Playboi Carti, Lil Uzi Vert, Solange, and Kanye West. Tyler the Creator waited two years from releasing his last album, "Flower Boy" in 2017.
#4: Please Excuse Me For Being Antisocial by Roddy Ricch
This album was released towards the end 2019 on December 6, 2019. The most popular song on this album is "The Box" but it contains three other singles. It is 43 minutes long and contains 16 songs that have many features in them. Gunna, Ty Dolla Sign, A Boogie Wit Da Hoodie, Lil Durk, Meek Mill, and Mustard are the artists that are featured on this album. My favorite songs from this album are "War Baby," "Boom Boom Boom," and "God's Eyes." Roddy Ricch is a relatively new known rapper and most I like most of his songs.
#3: Nothings Ever Good Enough by Iann Dior
This album is only eight songs and 19 minutes long but in my opinion every one of those eight songs is good. It was released on May 22, 2019 only features two other artists, PnB Rock and Bernard Jabs. My favorite songs from this album are "Who Cares," "18," and "Emotions." Iann Dior is another artist that is newly recognized on the rap scene and gained a lot of popularity and recognition because his song with Trippie Redd, "Gone Girl." Later in the year, he released another album called Industry Plant, which is also pretty good.
#2: Death Race For Love by Juice Wrld
This album is very special to me because this is the last album Juice Wrld released before he passed away. Death Race For Love was released on March 8, 2019 and is one hour and 12 minutes long. It contains two singles called, "Robbery" and "Hear Me Calling." There are only three artists featured on the album which are Brent Faiyaz, Rvssian, Clever, and Young Thug. After hearing this album for the first time, I was very excited for songs that he would make in the future, so I was very sad to learn about his passing away. My favorite songs from this album are "Empty," "Won't Let Go," and of course "Robbery." All the songs on this album are good and the cover of the album is one of my favorites ever.
#1: A Love Letter to You 4 by Trippie Redd
At number one we have, A Love Letter to You 4, a 21 song album by Trippie Redd. It features many artists and rappers such as Lil Mosey, YNW Melly, Juice Wrld, Smokepurpp, YoungBoy Never Broke Again, Tory Lanez, DaBaby, Lil Yachty, along with other artists. His songs containing these other popular creators not only made the album better to listen to, but also increased the popularity of it. This album is 59 minutes long and the deluxe version is coming out soon. It has three singles called, "Love Me More," "Death," and "Who Needs Love." It was released on November 22, 2019, the same day that YNW Melly released his album Melly vs. Melvin. I really like every single song on this album but my favorites are "The Grinch," "Love Sick," and "Love Me More." Overall, this is my favorite album of 2019 and it definitely needs more recognition.
About the Writer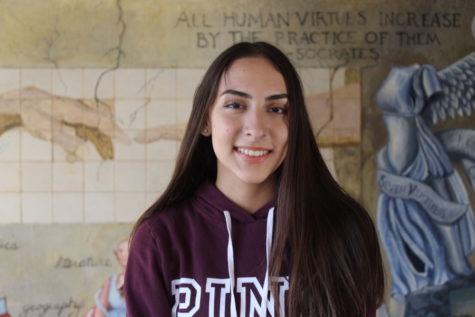 Angela Vance, Staff Reporter
Hi, my name is Angela Vance and I am a junior. I am on the varsity swim team and in my free time, I like to relax. This is my first year in Journalism,...