Tove Lo; "Sweden's Darkest Pop Expert"
Tove Lo started off her career in her hometown Stockholm, Sweden. Her music is indie-pop with a dark and grunge take on it. Rolling Stones called her "Sweden's darkest pop expert." Tove's music is very political. She likes to question and provoke areas that are taboo in society, like equality, sexuality, and racism.
Born in Sweden in 1987, raised in Djursholm. Tove Lo started her interest in music while she was little. She attended a musical high school, and then wanted to pursue her music career. She started a band called "Tremblebee" with two of her best friends: Aino Jawo and Caroline Hjelt, today known as "Icona Pop."  They ended up going separate ways. Icona Pop had their breakthrough year 2012 with the hit, "I Love It," that was played all over the radio, and most people will recognize. Tove made her own career and her breakthrough was with "Habits (Stay High)" year 2013. Now both parts are famous all over the world, from Europe to America and all continents in between. 
If someone asked me who inspires me the most in life, I would answer; Tove Lo. She has always worked for equality in society, and tries to express this through her lyrics. Concerts with Tove are never boring. She does not have a finished choreography, she just moves however she feels that day. That way no performance is a replay of the last one, and you always get a unique experience. Without other dancers, it makes it more special and personal as well. No playback, no supplements. Only her and her band!
I recently attended her concert at "The Masonic" in San Francisco. This was my sixth time seeing her, but my first concert was outside of Sweden. Like always, she was present with the crowd and nailed it like always. Unfortunately, she broke her foot three weeks ago at one of her concerts in Chicago. Therefore she had dancers for the rest of the tour, since she had to sit down more through the whole tour. 
Tove's songs are available on Spotify, Itunes, Youtube, to name a few.   If you are interested in some new music from a Swedish pop Queen, check her out.
About the Writer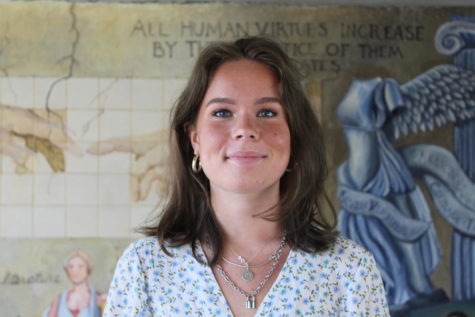 Emma Norin, Staff Reporter
Hi! My name is Emma Norin. I'm an exchange student from Sweden, and this year, I am senior at Los Banos High School. My passion in life is fashion, and...