The 6 Best Christmas Decorated Houses in Los Banos
It is hard to imagine Christmas without the lights and decorations. I mean like, as soon as Halloween is over it's like the very next day people are already decorating their house with Christmas lights and decorations while listening to Christmas music.
I, like many other individuals, am fascinated and really enjoy staring at Christmas lights with all the decorations; it really sets the Christmas tone best. This has become tradition for many whether it be to drive around with family and friends looking at lights or decorating their own house. We all enjoy seeing the beautiful colors that gives us Christmas spirit.
People looking for a safe activity during Covid -19 times can find driving and looking at Christmas lights to be safe and enjoyable. The process of looking at Christmas decorated houses requires less interaction and contamination then going to the store, so this is a something I feel people need at the moment for the rough year it has been.
In no order, these are what I believe, to be the 6 best decorated houses in Los Banos, CA.
1  On Rhoda Ave, this cute house takes advantage of every inch of grass and spot on their house to make their house look really nice with all their different colors and types of decorations to make their house standout even with its low space. What makes this house really pop as well is all the pop culture references from movies like, ¨National Lampoon's Christmas vacation,¨ ¨Elf,¨ and  Mator from ¨Cars.¨  The decorations also include many icons like Minnie Mouse and the Minions with even more if you get the chance try to find them all.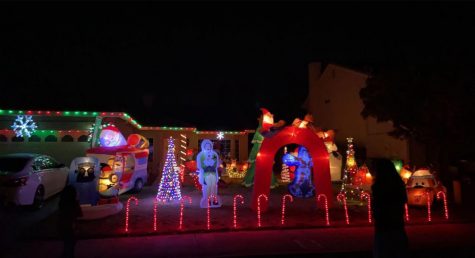 2.  Turning onto Plum Ct., you can't miss this one. This house has become so well known for all the effort and time that must have gone into setting up the house to get it to look so nice every year. This one has to have in total the most decorations with countless items like stuffed animals and lights everywhere you look.  So many characters all over the house too only adds more to scene, but it might take you a few visits to see every single thing. When walking close observing everything in detail including all the decorations on the lawn, I realized after 10 years of visiting this house, that they have lights spreading on the lawn.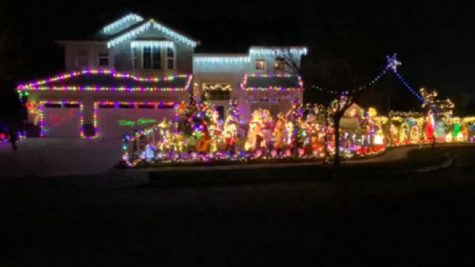 3.  On N Santa Clara St, this one story house is really awesome because this house integrates music in their Christmas lights and decorations making the lights flash to music being played on the given radio station. They use their trees outside to decorate which is common, but with such a tight little yard space they have, it is amazing they set up their house like this, and they have been setting it up this way for almost a decade. A little Santa on the roof is the final touch needed to go with all the arches flashing to the beat.(CLICK HERE for a video)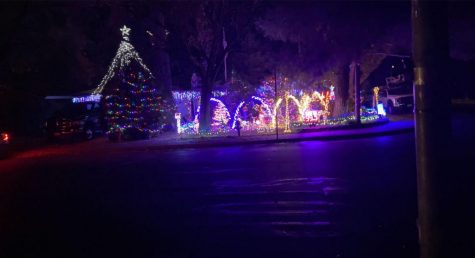 4.  On Palermo Dr., you will come across this house which has everything you could possibly want in a Christmas decorated house. Both stories hung with lights and even the garage lights up with little candy canes, big candy canes, reefs, and the ¨Misfit Toys¨ from Rudolph the Red Nose Reindeer. This house also has palm trees wrapped with lights which looks great, surrounded by colorful lit up lawn decorations.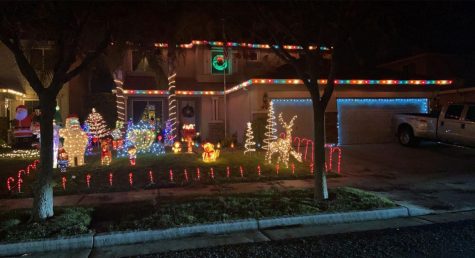 5.  On West K St, you will come across a giant inflatable snowman by palm trees with Christmas lights which is probably the greatest thing ever, a snowman next to palm trees, and that is only the side of the house. The lawn right in front is really amazing with many little lawn decorations including a Santa and his slay under a decorated tree with these ornaments that light up. Seriously this one is my personal favorite because of how much it looks like a little California North Pole.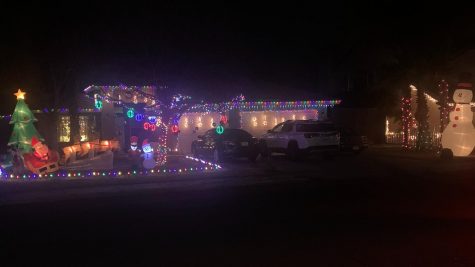 6.  Finally on Castellena St, another house uses music and lights in which the decorations light up to the music that is on a certain radio station. This house's size makes the lights really standout which makes this house probably  the most famous in Los Banos. They use the little path of grass on the side to decorate with little Christmas trees that also light up to the music. The fence is even used that seriously adds up to a really amazing sight worth going out to see.  In this house they seriously decorated their house as much as they could. Topping it off with a little Santa and his reindeer on top of the house which goes to music as well. They have this really cool decoration in front of the house which is this big tree which flashes multiple colors to the music. All houses are worth seeing and should be seen, but this one is mandatory if you want to get into that Christmas spirit. (CLICK HERE for a video)