Here's what's happening at LBHS!
There have been many occurrences at Los Banos High School over these past few days. Let's take a look at what's recently been going on and be up-to-date.
Mural Contest
There has been encouragement from the school to students at home to participate in a Mural Contest. LBHS Vice Principal Ms. April Latta explains that "Student's enter their artwork to be considered for a mural on the library." Ms. Latta also shared how the process works. "Submit by Nov 1st, staff votes and student that wins gets to paint the mural", she stated. There is also no limit to the amount of submissions. Ms. Latta also states the motive behind this event is "so students can display their talent and show pride in their school".
This announcement was posted to all class level google classrooms.
Artists Wanted Hey Tigers! We miss you! We have been working hard to make LBHS a cleaner and safer environment for you when you return. We have just completed cleaning up the library area and added a fresh coat of paint. This freshening up is now begging for your creativity! We would love for students to be the ones that create murals for the freshly painted walls. What does this entail? 1. Submit your proposal of artwork to Ms. Latta at [email protected] by November 1st. 2. Staff of LBHS will vote and select several of the submissions. Those chosen will be able to create their work of art on the library themselves for future Tigers to marvel. 3. Artwork will be painted to scale on the wall as determined and the supplies will be provided. 4. Artwork should reflect Tiger Pride, inspiration, culture or positivity. Good Luck and Get Creative!
Pets On Campus
On Monday, November 2nd, Teachers brought their pets to school. This was done to boost morale to all during these Many of them brought their four legged companions, but not just man's best friend, even including a horse !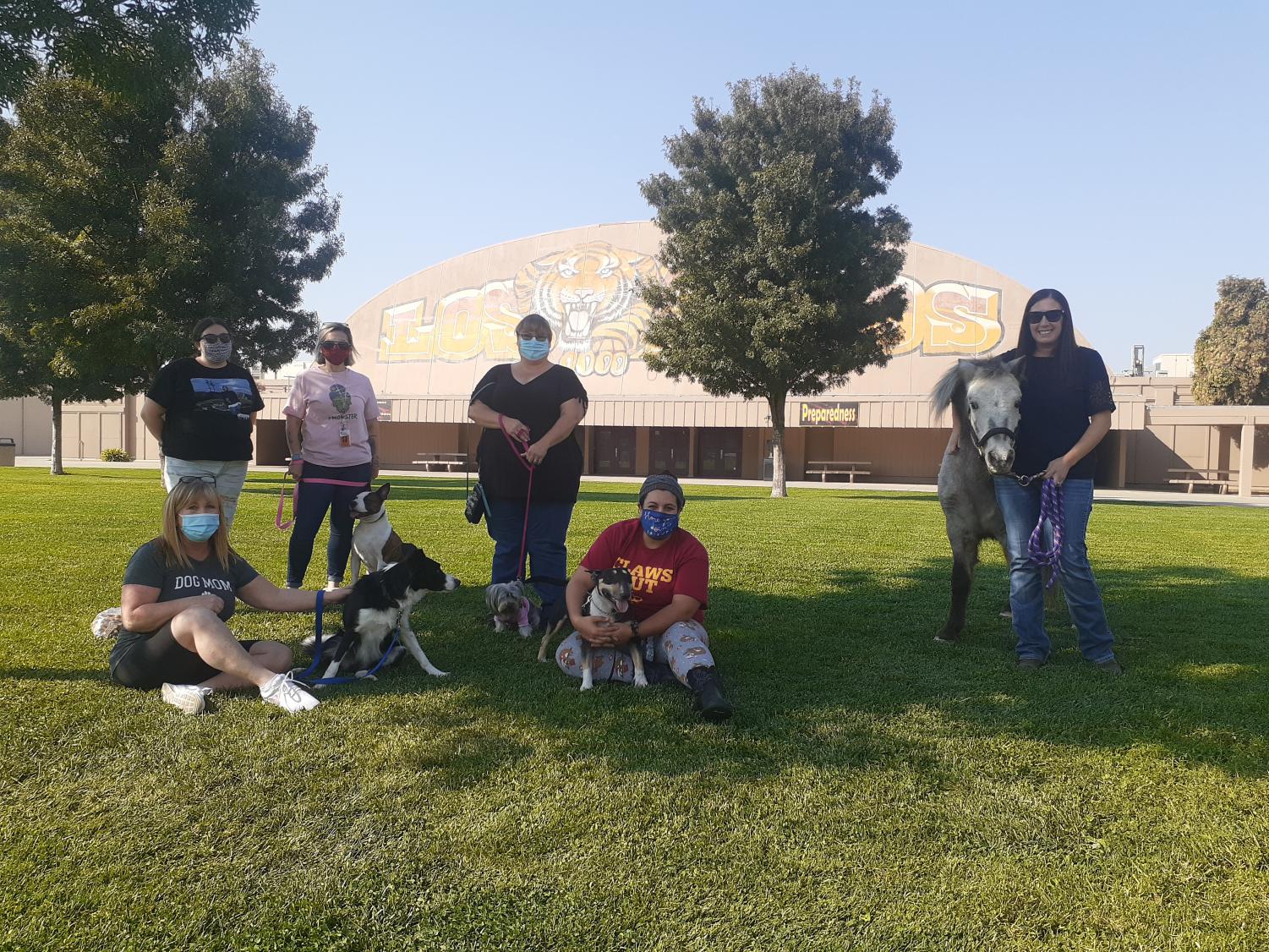 Gradual Reopening
Schools will gradually reopen. And LBHS is no exception, as their is already a few students present on campus. At the school grounds, there are young children attending class already. This group is the SDC children, as they have begun first in attending in-person learning. In reference to the reopening plan presented by the district, after another group (consisting of EL/Newcomers, Inclusion students, Foster and Homeless Youth, who will receive support in their journey through distance learning), return on the 16th, the school will eventually shift to the Hybrid Model, as according to their respective grade levels, on the following date: December 7th. From there, other students from their respective grades (Grades 1-12) will gradually return to campus.
Below are two slides from the District Reopening Plan, which can be accessed on the District Website.
Other News 
In other news, the school library has been repainted. Expect for the library to look more livid when returning. For the time being, there are no other activities or events being held on school grounds. However, it can be expected for much more to come along the way. In the mean time, stay safe and stay pending for any more updates.