The Ghost of Homecoming Past
Ah, homecoming, a time where the scent of glittered poster boards, tears of the fallen runners-up to the Homecoming Queen, and school spirit hangs in the air. However, this year, students are "haunted" by the absence of what is probably the most iconic tradition of them all. The ever-famous Homecoming Dance.
Yes it's true, in case you haven't heard, Los Banos High School will not be having a homecoming dance. Que the tragic opera music and the crying children. Many students are outraged, some couldn't care less; but if you're like me, you're left asking, "Why?"
Could it be a lack of money in the budget? Did ASB simply forget? Or are dances simply outdated and boring?
Personally, I think dances are a nice way to spend some time with your friends, let loose, and enjoy some deafeningly loud music. Who wouldn't want a piece of that? Yet, what actually happens at school dances? Students dance until their six-inch platforms from the bottom of their mom's closet make their feet go numb, and by the 45-minute mark, they're all seated and on their phones. Soon, they decide it's time to go and what proceeds is either a Denny's trip or a sleepover of some sorts.
Now, what actually happens at a football game? Yes, I realize that many do go to support the team, show school spirit, and genuinely enjoy the game. On the other hand though, there are a lot of people for which the football games are social events followed by, you guessed it, Denny's and hanging out with friends.
So the question that I ask, and I'm sure ASB or whoever is in charge of Homecoming festivities also asks, are we losing anything by not hosting a dance for homecoming? Seeing as though what would take place at a dance is more than likely already happening at the game?
In my opinion, no, not having a homecoming dance is not going to be detrimental to life as we know it. Would more dances throughout the year which serve as stand-alone social events be greatly appreciated? Yes, I think they're almost necessary as a matter of fact. They give students a safe, semi-controlled environment where they can feel free to enjoy themselves and provide time that's not behind a computer screen.
About the Writer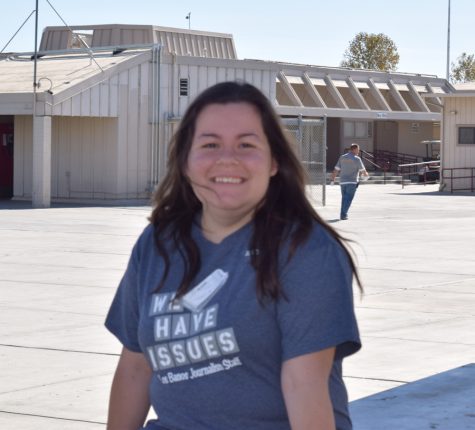 Arianna Ramirez, Staff Reporter
Hi, I'm Aria, I'm a junior, and I'm addicted to glitter and cartoons. I spend my days distracting myself from the loud, scary, adult world around me. I...